Cabin Crew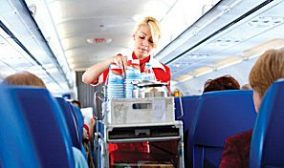 The cabin crew is everyone who works onboard the airplane. … Flight attendants instruct patients on how to act during an emergency, serve the meals, and take care of the passengers. Pursers or senior flight attendants are in charge of the whole crew that has contact with the passengers.
As Cabin Crew members you play a vital role in providing excellent customer service to passengers while ensuring their comfort and safety throughout the flight.
They're trained to deal with security and emergency situations which may arise and can administer first aid to passengers.
If you're attracted to the jet-set lifestyle of air cabin crew you'll need to demonstrate hard work, dedication and professionalism around the clock and around the globe.
You will ensure that all emergency equipment is in working order prior to take off and that there are enough supplies. You'll also help passengers to board the plane and give a demonstration of safety procedures and equipment. 
Air cabin crew strive to make the flying experience a pleasant one for the passengers and will serve refreshments and meals and sell gifts and duty-free items. You may work on short or long-haul flights.